What is it?
Guided Self Help is a structured set of sessions that can be tailored to your specific difficulties to help your own understanding and your self-management of these difficulties. We will look more at how your difficulties operate in the 'here and now' and what may be keeping them going; the focus will not be on past events. We will be introducing tools and techniques for you to apply to yourself and that you can continue to use to stay well in the future.
Why do we do it?
Guided self-help is recommended by the National Institute for Health and Clinical Excellence (NICE) and is a Cognitive Behavioural Therapy (CBT) based approach for supporting people with mild to moderate anxiety, depression or stress. CBT is an evidence-based, problem focussed method of changing the way people think, feel and behave.
Who is it for?
Guided Self Help sessions can be tailored to suit people with practical difficulties related to mild or moderate;
Low mood
Anxiety and worry
Panic
Phobia
Sleep difficulties
Long term health conditions such as fatigue
What does it involve?
Guided Self Help involves meeting with a specially trained therapist face to face, in a course of up to six sessions. These sessions usually last thirty minutes and are generally spread across a number of weeks.
Our experienced therapists will work with you on an individual basis:
Listening and talking with you about your concerns
Identifying with you your priorities for the sessions
Support you to understand the issues you have and how they are affecting you
Introduce you to a range of self-help materials
Guide you in how to use these materials effectively
Help you to make positive and practical changes
You and your therapist will continue to review your progress throughout the sessions to ensure you receive the most appropriate treatment.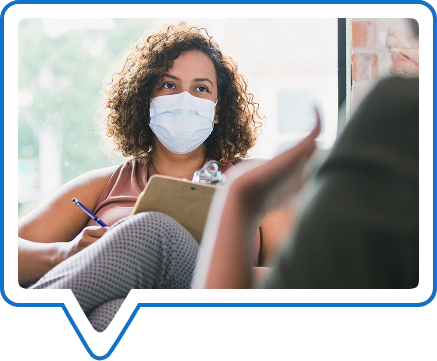 What is required?
Commitment to attending sessions
Ability to set limited achievable goals to work on during treatment
Complete suggested reading away from sessions
Practising tools and techniques away from sessions
Click here
to read about clients' experiences of Guided Self Help.