There is an incredible amount of stigma associated with experiencing mental health problems and, for men specifically, this has led to an epidemic in the UK. In 2020, the Samaritans reported that men account for 75% of deaths by suicide – making suicide the biggest cause of death for men under the age of 35. Despite this, research consistently reports that women are much more likely to experience depression and anxiety than men.
How does this contradiction make sense?
One explanation is that men are less likely to speak out. Research shows that men are less likely to talk about their mental health, seek social support, or reach out to healthcare professionals. This is shown by the fact that women make up two thirds of all referrals to NHS talking therapy services. If men are not seeking help, their difficulties are more likely to go unnoticed – reinforcing the myth that men are less likely to experience mental health issues.
The tide is changing
Men's mental health is becoming an ongoing conversation. In 2019, Mind found that men are more willing than ever acknowledge their difficulties and seek help from healthcare professionals. However, there is still more to be done. IAPT services have been set up across the UK, including Lewisham, to offer short-term talking therapies for common mental health issues such as:
Depression
Excessive worrying or anxiety
Panic attacks
Sleep problems
Stress
Phobia
Low self-esteem
Obsessive compulsive disorder
Low mood due to a long term health condition for example diabetes or COPD
Experience of a traumatic event
Loss and grief
Feeling down due to unemployment or difficulties at work
Feeling down due to relationship problems or life changes
Why do men struggle to talk about their mental health?
In a 2015 survey, the Priory Group found that there are several reasons that make men less likely to seek help including a reluctance to admit needing support, and a fear of embarrassment or appearing weak. Gender stereotypes suggesting that men should be strong and never show emotion leads to an environment where men feel unwilling to seek help.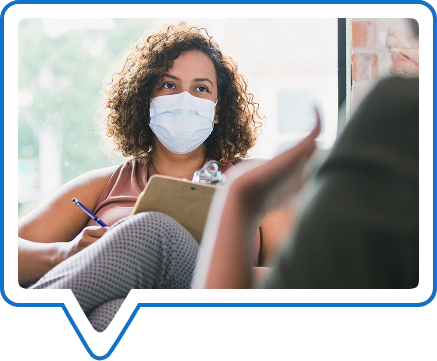 If you are experiencing stress, low mood, or anxiety you are not alone. The Men's Wellbeing Workshop might be a great place to start your recovery journey. The workshop is a six-week course carried out in a group-setting by trained professionals. It is a free and confidential space to:
Learn practical skills to actively improve your mental health
Understand the links between mental and physical health
Improve relationships with yourself and those around you
Get help setting and achieving goals
Meet people experiencing similar difficulties
Let's Talk – Men's Wellbeing Workshop
Men specific and other helpful organisations: